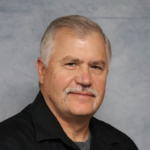 Pastor Cary Wacker

Family:
Wife: Wendy
Children: Rachel, Jason & Grandson's Joshua & Brody McLouth; Megan, Spencer, Grandson Corin Helwig, Granddaughter Ember Helwig; Shelby Wacker; Jonathan Wacker
Previous line of work:
Commercial Printing
Favorite:
Book(s): The Bible; "On Being a Servant" by Warren W. Wiersbe
Food: In-N-Out Burger, fish tacos, and wild game
TV Show: I really don't have one.
Place to Pray: On a rock or log in the woods.
Hobbies: Hunting anything and fishing
Sports Team: Denver Broncos
Sports: Football and soccer
Vacation Place: North Idaho
Least favorite food:
I really don't have one; I like food!
One of my greatest experiences with God:
The greatest experience that I have had with God is the lifelong transformation that he is taking me through. I am continually amazed at His grace and mercy in my life.
Most people don't know this about me:
My Indian Guide name is "Little Thunder." There you have it, the secret is out.